eLimu; Tech vs. Content & The E-learning Debate in Africa.
February 10, 2013
Hello friends,
My latest piece for BBC Future's Matter of Life & Tech column explores the growing debate of technology vs content in the e-learning space, by looking at Kenya's new eLimu tablet.  Check it out!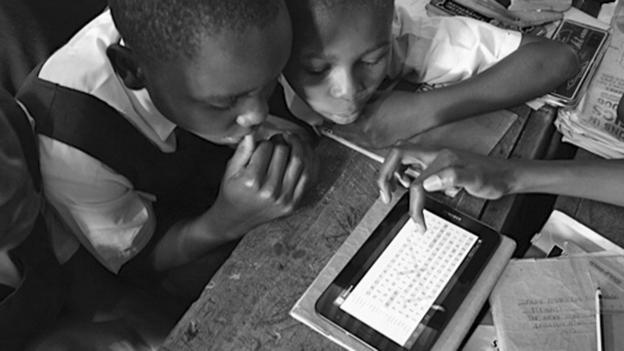 eLimu: 'T' is for tablet computer
BBC Future; Matter of Life & Tech
February 5th, 2013
Jonathan Kalan
In a tiny classroom tucked inside one of Nairobi's sprawling slums, the 34 class eight students of Amaf primary school wait anxiously for the 4 o'clock bell.
At this time, twice a week, headmaster Peter Lalo Outa instructs students to put away their textbooks, assembles them into groups, and pulls out seven sleek tablet computers for the after-school lesson. One day, the students watch a video explaining the process of composting manure. On another, they'll watch the animals they study come to life through videos, pictures, and interactive games.
"Our curriculum in Kenya is like a punishment to children, they feel they have to do it because it's compulsory," explains Outa. "With these tablets, our students really enjoy learning."
Amaf school is one of two institutions piloting software by eLimu, a Kenyan education-technology startup that develops apps and content for small, touch-screen, wifi-enabled Android-powered tablets.
"We're using the tablet as a tool through which information, ideas and passions can grow," says eLimu founder Nivi Mukherjee,
eLimu works with local teachers, partners and developers to design localised, digital content meant to push primary education beyond the typical "chalk and talk" approach common in many classrooms. The start-up wants to show that digital content can be cheaper, better, and more effective at getting kids to learn.
"Our books have a limit," says Outa, "but these tablets go beyond – with videos, photos and more practical learning."
In Kenya, education is still one of the country's biggest development hurdles. Although primary school was made free in 2003, resulting in nearly 100% enrollment, today less than one third of primary school pupils possess basic literacy and math skills for their level, according to Uwezo, a four-year initiative researching the state of education in east Africa. On any given day, 13 out of 100 teachers are absent from school, it says.
"Overcrowding in classes, inadequate teachers, and lack of learning and teaching materials" are all enormous challenges to education, admits John Temba of Kenya's Ministry of Education.
Splash and flop
eLimu may be the latest attempt to harness technology for education, but it's certainly not the first. For decades, organisations have been using technology to broaden universal access to information and make learning more interactive.